It's been a wonderful week of eating gluten-free on the road paired with sunny California weather! It's amazing to experience "winter" just a few days drive from home and realize how different the season feels here. I'm back this week with our weekly wins and losses to share some fun new travel cookware and an egg boiling hack we use all the time.
Gluten Free Wins:
Fun NEW travel cookware!
It's high time I update you on a few new kitchen appliances we are using! But before I do, know that I don't share or recommend products until after I test them and decide I like them enough to recommend. I take my recommendations very seriously.
Have you noticed the trend of foldable containers and cookware? The Squish bowl has long been a part of my gluten free travel cookset but I added two new squishables: a collapsible kettle and pot. Here are my thoughts on each:
Collapsible Hot Water Boiler
While we still have (and love) our old mini Bodum kettle, this new collapsible addition fits into our luggage and tiny home even better! We've had it for six weeks now and it is holding up well.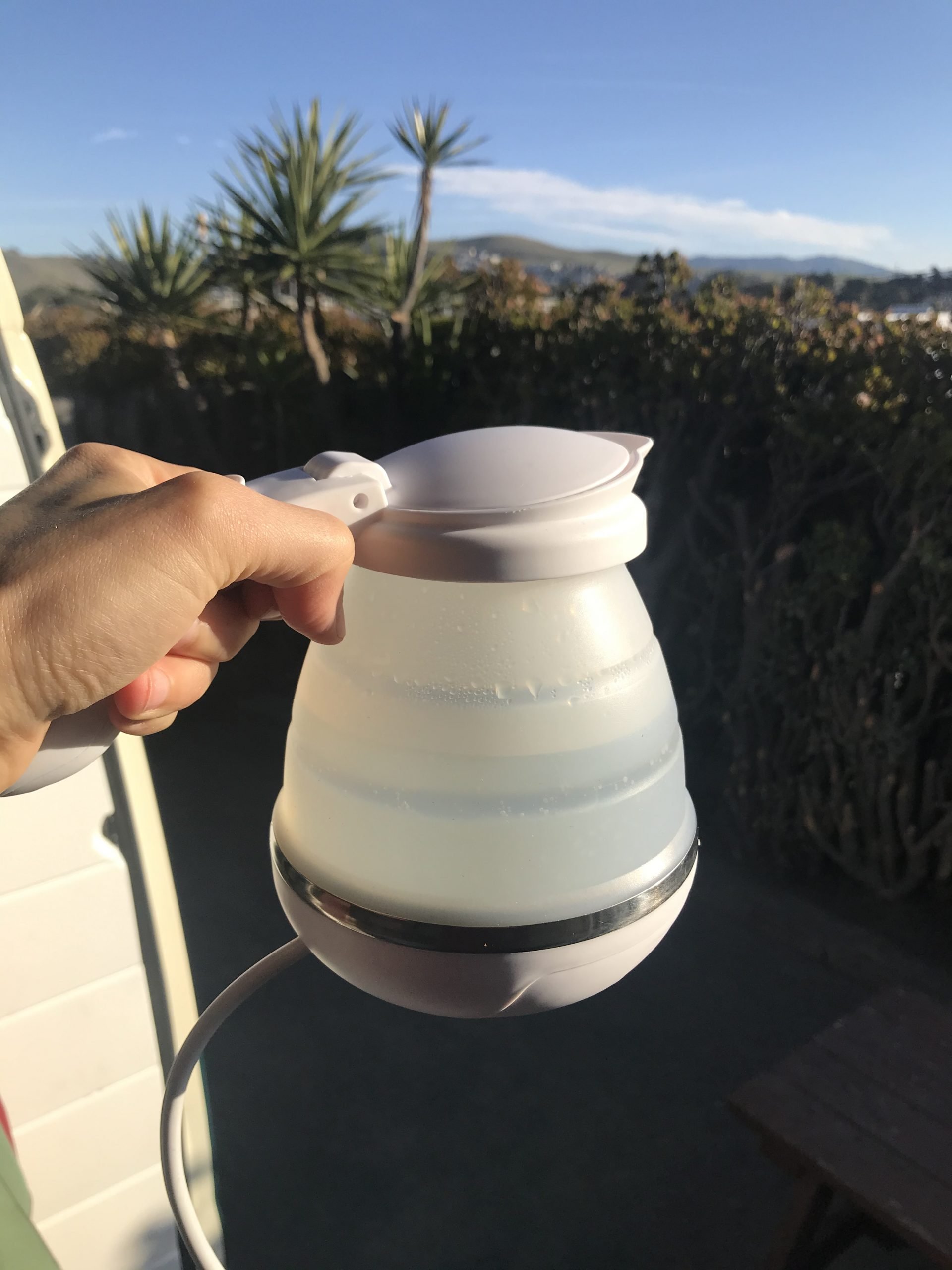 In addition to being small and compact, the wider top means you can put an egg inside -- we hard boil eggs in the kettle for quick healthy snacks on-the-go, especially while traveling.
Here's how to boil an egg in an electric kettle:
Add cold water to the kettle. 

Add egg(s) and make sure there is at least ½ inch of water covering the eggs.

Turn on the kettle and allow it to boil.

Let the kettle sit for 15-17 minutes after shutoff depending on egg size (less for smaller eggs, longer for larger eggs). Remove water and egg(s) and allow to cool before eating.
This little kettle only fits 1-2 eggs, but that's just enough for the day!
Collapsible Pot
We thoroughly appreciate how storable this collapsible pot is, but it does come with two warnings:
It's easy to accidentally compress if you're not paying attention. That makes it a potential hazard if you have curious children around or are in a distracting environment.

The flame cannot be so large as to heat the outside of the pot (the silicon). The silicon

will

melt. That being said, we use this on our propane stove and it's been worth the trouble -- we keep the heat a little lower than we might for a regular pot. We haven't tried it on an electric burner but I suspect it would work wonderfully!
We still have and use the GSI set of lightweight pots I recommended previously. If you're only getting one small set for many different circumstances, these are still the best. We'll use the squish pot in addition to these, especially for shorter vacations or when we want to pack super light and minimal.
A note on collapsible food containers: We used these for some time and eventually phased them out. They leaked liquids and the more frequent use and rougher handling eventually wore them out. Also, we occasionally bleach items that may have been subject to cross contact and they did not hold up to bleach. We do not bleach these items because it 'disinfects', but because bleach deconstructs proteins like gluten and can potentially be an extra safeguard. It's true in theory but has yet to be tested on gluten in a laboratory, so we do this for peace of mind and can't claim any medically tested benefit.
Gluten Free Losses:
I'm wracking my brain here but we've really had a great week traveling gluten-free! We're working on more super easy snack ideas and quicker meals to limit the amount of time we spend cooking so we can explore more.
Here's a snack we enjoyed this week:
Lundberg brown rice cake, sliced avocado, and Yellowbird Blue Agave Sriracha.
Here's an easy recipe you can make on-the-go:
It's our easy Deconstructed Sushi Bowl made with canned tuna instead of salmon. It may not look the part here, but I promise it's delicious, super easy, and our favorite meal we made this week!
On an overall wellness level, I need to sleep more! I get so excited about projects, exploring, and meeting new people that I often procrastinate bedtime until later than ideal... Do you struggle with this too?
Hungry for more?
Check these out–
Wishing you a wonderful week of good gluten free eats,
❤︎ Jamie
Save this post on Pinterest by clicking the 'save' button in the top left corner of the photo below: