Upon entering Lucky Santo, I'm greeted by the chatter of a Wednesday afternoon lunch crowd. Light streams through the windows of this Ballard neighborhood restaurant and the kitchen is alive with the clanging of pots and pans. I'm visiting the restaurant to get an exclusive interview with Nikki DeGidio, the genius behind the Lucky Santo food, to hear her story of how a celiac disease diagnosis led her to owning this popular healthy food joint.
As a classically French-trained chef with a passion for the buzz of restaurant life, Nikki's life was flipped upside-down by a celiac disease diagnosis. She could no longer taste the dishes she prepared in the restaurant where she worked, a gold standard in the high-end dining industry, and the wheat-filled environment made her sick and uncomfortable.
Initially, she worried that a career change was inevitable. However, in an exciting twist of fate, she is now the owner of the amazing Lucky Santo restaurant in Seattle!
This is the first time Nikki has had a conversation with another celiac. I find real-life celiac friends to be few and far between (thank goodness for the social media community!). We laugh about the nature of some of the celiac tests and commiserate about how long our diagnoses took to come about.
This leads us to my first question for Nikki:
JP: How did you find out that you have celiac disease?
Like many of us with celiac disease, Nikki experienced symptoms long before diagnosis. She first knew something was wrong when she lost her usual high-energy and became lethargic in her teenage years.
Medical tests showed low thyroid levels and she began taking medication for hypothyroid. Overall, she still did not feel much better. "As a kid, you don't really question your doctor, you just take the pill," Nikki explains.
It wasn't until she decided to take matters into her own hands, paying careful attention to how food affected her body, that she really began to feel better.
Nikki was clued into specific foods that were affecting her energy levels through a Whole 30 challenge nearly 15 years after her hypothyroid diagnosis. After having her symptoms dismissed by several doctors (another commonality amongst celiacs), she finally found one that supported her path to diagnosis.
Fact: It takes an average of 6-10 years to be correctly diagnosed with Celiac Disease. (beyondceliac.org)
As someone who also struggled with an incomplete diagnosis, this experience is super relatable! We both agree that becoming our own health advocates was crucial to getting to the root of our health problems.
ND: "I was relieved that if it was going to be a disease, it was one that was controllable by diet. At least... there's that." We laugh because it's obvious to both of us that while we can control our condition through food, the accountability and lifestyle alterations are a HUGE challenge.  
Related: 5 Things Everyone Should know about Celiac Disease;  My Celiac Diagnosis Story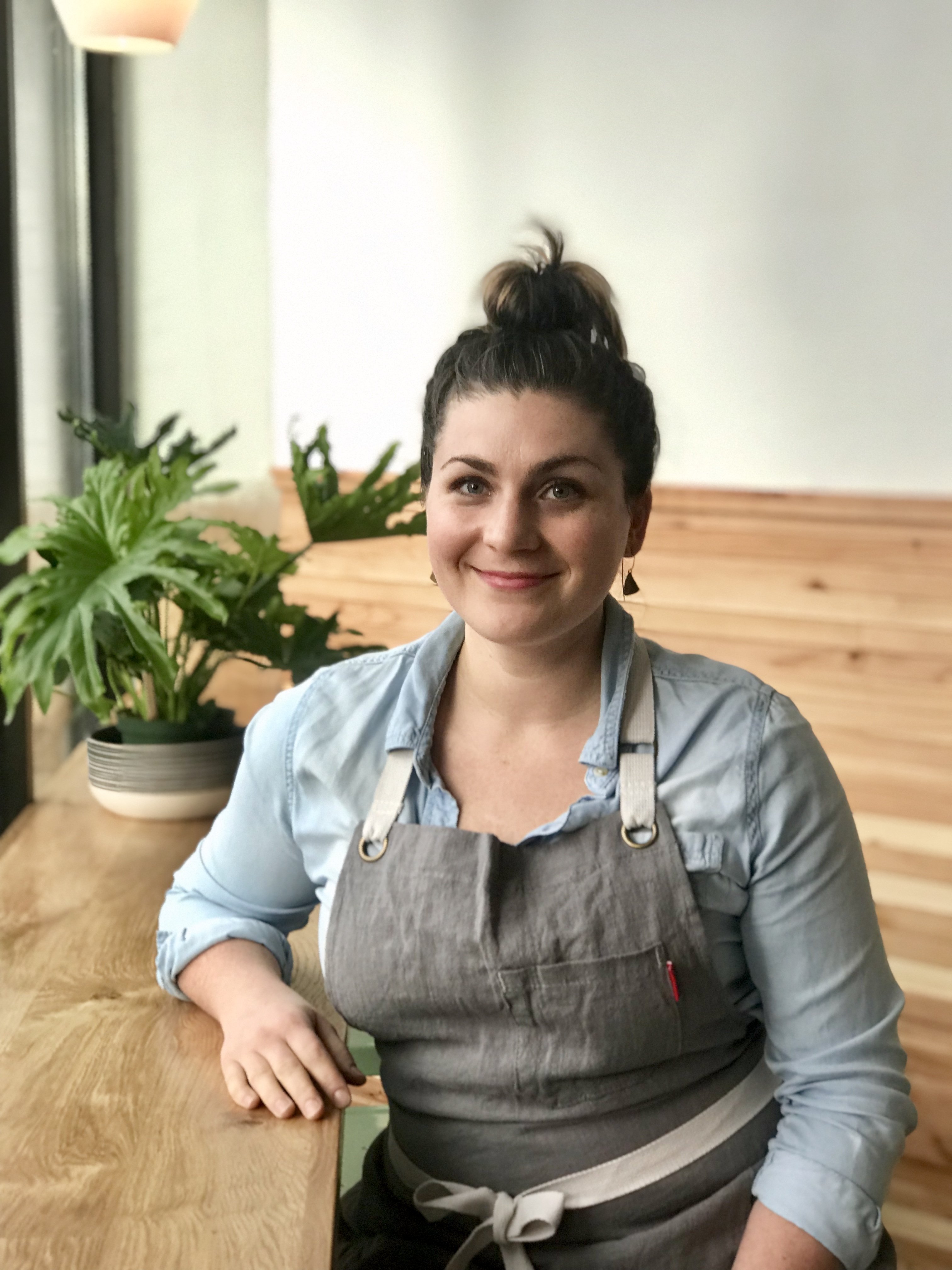 JP: What is the story behind Lucky Santo?
When diagnosed with celiac disease, Nikki worked at Stoneburner in Ballard, "where the gold standard is to taste everything" she tells me. She explains how Stoneburner has a delicious and creative menu that is full of wheat, and flour and crumbs are everywhere.
ND: "So I went from tasting everything to then having to ask others to taste things and tell me".
"Being around all the flour was really hard, and I noticed that when I finally stepped down and away from that space my eyesight improved".
While she is clearly recounting an emotional experience, I appreciate her ever-present optimism. She describes how valuable this experience was because it allowed her to train other chefs to recognize tastes and textures.
She also expresses gratitude to the owner of Stoneburner, for his understanding and continuing to trust her to make good decisions in the kitchen and work through the diagnosis in her own way.
ND: "Really, a career change is what I was looking at."
With her career direction in crisis and the growing realization that Seattle was truly lacking a healthy, nutrient-dense gluten-free restaurant, the idea for Lucky Santo was born.
All the research leading up to her celiac diagnosis intensified her interest in nutrition and healthy food and she began dreaming up the idea of her own healthy foods restaurant.
ND: "It kind of just fell on me. I had an idea, a loose concept [and] I was really shocked that a place like this didn't exist already."
Nikki admits that opening a restaurant was not something she originally saw in her future; "It wasn't until I really started to see a need for something else that I thought it was a good idea."
JP: What else do you want readers to know about your restaurant?
Nikki is passionate about healthy gluten-free and nutrient-dense food. "Going the healthier route was really important to me," she explains. She's not just trying to provide all the foods that gluten free eaters struggle to find, like fish and chips. Lucky Santo recipes are delicious, nutritious, and made to support good health and healing.
Because of their vegetable-focused approach, Nikki comments that Lucky Santo is often confused as a vegan or vegetarian restaurant. "We are not a vegetarian or vegan restaurant but we get confused with one all the time because there is such an emphasis on vegetables…  it doesn't replace the meat in our diet, we still eat meat… We specialize in gluten-free [and] we source meat thoughtfully."
To all the vegan and vegetarian readers out there, don't despair! Lucky Santo has several delicious vegan options, as well as healthy plant-based smoothies and treats.
On the other hand, while Lucky Santo follows the "Paleo" protocol, Nikki wants readers to understand that vegetables truly are the focus of each of her creative dishes.
I thoroughly enjoyed spending this sunny afternoon chatting with Nikki about her celiac diagnosis and fabulous new restaurant. With her enthusiasm for delicious gluten-free food and the vibrant atmosphere, it's no wonder this new restaurant is rapidly becoming a popular hangout for new and returning customers.
With its growing popularity and prime location for Seattle summer beach-goers, I recommend getting your foot in the door as soon as possible before you'll need to fight the crowds! Besides, then you can use the ultimate of all bragging rights: you found Lucky Santo first.
Signing off on the first of what I hope to be many more journalistic adventures,
❤︎ Jamie Prosper